DATELINE:
Monday 9 January 2017
TWO ITEMS  of sad news.

First, EFC member John Barkess died shortly before xmas 2016 and his funeral was held at Edinburgh's Warriston Crematorium on Saturday 7 January. John had been an EFC member since the mid-1970s when he married the late Liz Cruickshanks who sang at the club - as well as many other gigs - with her late sister Maggie.

Next, EFC member Oona Hughes died just after hogmanay having suffered a series of quite serious illnesses from about the middle of 2016. We're not sure when Oona became an EFC member but it was a long-standing connection - probably back to the club's very early days in late 1973.  Oona's husband, Malcolm, well-known for his quirky entries to EFC's songwriting competition, says Oona's funeral is to be on Thursday 19 January at 11am and, again, at Warriston Crematorium.
Scroll down the page for 'disappearing' old news
---
DATELINE: Saturday 29 October 2016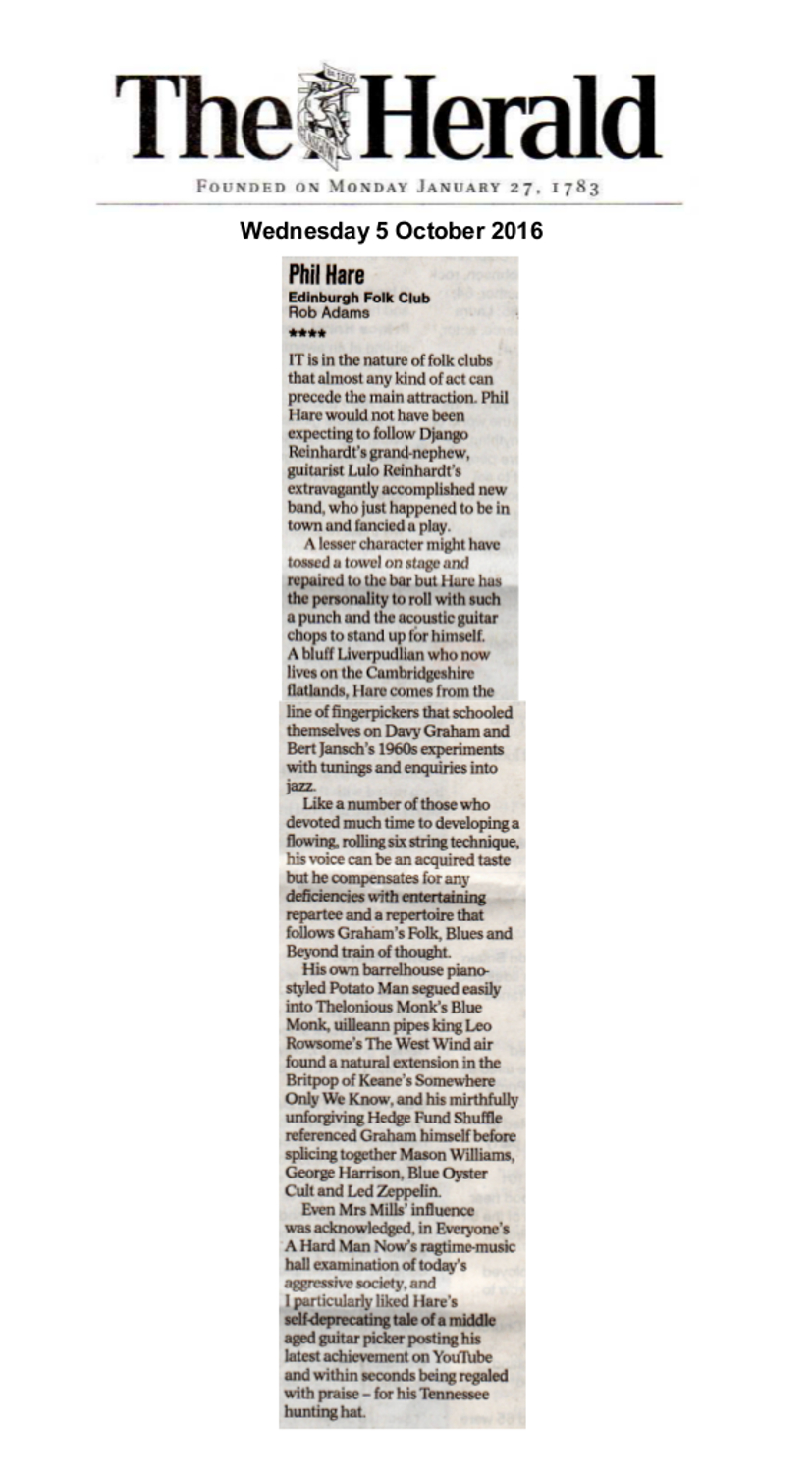 ---
DATELINE: Wednesday 26 October 2016
CARRYING STREAM FESTIVAL - #15
Wed 9 to 16 November 2016
Click on the link above to see the full programme of this year's Carrying Stream Festival. 
---
Dateline: Tuesday 3 May 2016

EDINBURGH FC's 40th  ANNUAL SONGWRITING COMPETITION 
The 40th Edinburgh FC annual songwriting competition takes place on Wednesday 1 June 2016.
Submissions to Paddy Bort, EFC Chair, by Wednesday 25 May 2016
See EFC's website for the competition rules and how to enter. 
The judges for this year's competition will be: Maggie Holland, Jim Welsh and Murray MacLeod. 
Maggie is a well-known and respected singer from England who has lived in Leith for quite a while now..
She currently performs solo and with The Broonzies and Hot Vultures. 
Jim Welsh, musical man about the city, has run jazz and folk gigs, written articles, and was a founder of Leith FC.
Jim broadcasts currently on Radio Summerhall. 
Murray MacLeod, guitarist and luthier (if you need a guitar fixing – this is the man), is currently also Edinburgh FC's secretary. 

Historical note ...
The first of what has become the annual EFC song-writing competition took place on Wednesday 19 May 1976 in 23 George Square, the club's weekly venue at the time.
The first winner was Sheila Douglas with, "O Mither, Mither".
The competition drew 15 songs - not a bad turn-out for a first 'go' - including entries from Ed Miller (sent all the way from Texas on cassette tape), Stanley Robertson (Jeannie's nephew of course, who also entered using tape) and Lesley Hale.
The judges in May 1976 were Hamish Henderson, Ray Fisher and Alastair Clark - all now sadly dead, as is winner Sheila Douglas.
However, in second place came Nancy Nicolson who is still very much alive today.

Sandy Bell's Broadsheet published Sheila's song on Monday 14 June 1976 in edition 3.21
(check out the now-developing SBB archive or go to DropBox folder Sandy Bell's Broadhseet).
---
Dateline: Tuesday 19 January 2016
The annual EFC audience survey results are now in.
The top ten of the 2014-2015 season's 45 gigs as voted for by EFC audiences during the run-up to xmas were ...
  1.    Archie Fisher 
  2.    Anna Massie & Mairerad Green 
  3.    Tommy Sands 
  4.    Barluath 
  5.    Colum Sands 
  6.    Kieran Halpin 
  7.    Alastair McDonald 
  8.    Steve Tilston & Jez Lowe 
  9.    The Tannahill Weavers
10.    Wendy Carle Taylor
---
DATELINE: Monday 6 November 2015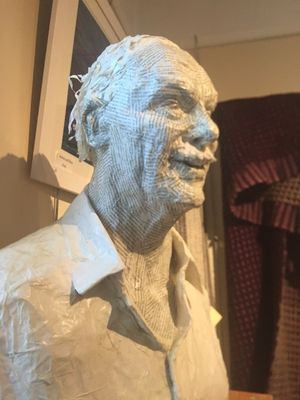 'Bust up in Edinburgh hostelry'
When Scotland's foremost folklorist of the 20th century died in 2002, folk fans from Edinburgh Folk Club commissioned a paper maché bust of the great man Hamish Henderson. The bust naturally found a comfortable home in the world-renowned Edinburgh folk music pub, Sandy Bell's Bar.
Henderson's real office was Edinburgh University's School of Scottish Studies, which he'd helped to create in the 1950s, but he would often be found in his 'ununofficial office', Sandy Bell's, a mere stone's throw away.
A few years after Hamish died, the National Museum asked for a loan of the bust for their 21st century gallery. And ever since then there has been a notable gap a-top the gantry in Sandy Bell's, bemoaned by many a folkie.
Now, however, Penicuik-based artist Jan Miller has come to the rescue by making another bust of the great man. On Monday evening, 9 November, two days before what would have been Hamish's 96th birthday, the new bust will have pride of place again in the pub.
The 'unveiling' of the new bust is part of this year's Carrying Stream Festival (number 14), Edinburgh Folk Club's celebration of the folklorist, poet, songwriter, soldier and activist.
A quirky feature of the bust is that the surface is made with pages of Hamish's writing. On first seeing it, one of the founders of Edinburgh Folk Club, and long-time editor of 'Sandy Bell's Broadsheet', Dr John Barrow, called it 'spookily lifelike'. As from Monday, punters can see for themselves.
Coda: a nice touch is that Jan Miller has also made a smaller bust of a younger Hamish for Kätzel, Hamish's widow.
And Kätzel and daughters Janet and Tina, will be present when the busts will be toasted on Monday, trusting that Hamish may again benignly watch over many a convivial 'impromptu colloquium' in Sandy Bell's, the local watering hole synonymous with the Scottish folk revival for over 50 years.
---
Dateline: Saturday 3 October 2015
Looks like a top quality concert in prospect in the Pleasance Cabaret Bar soon ...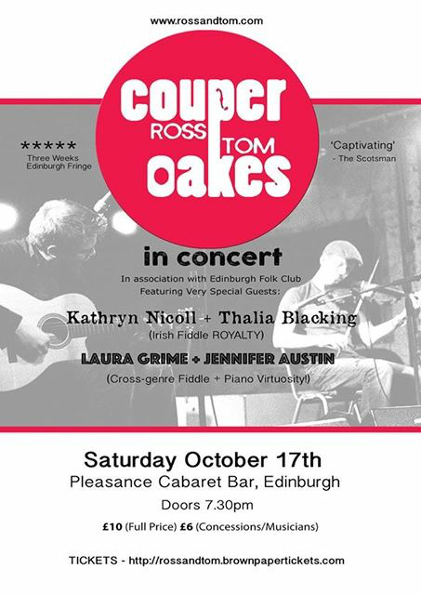 ---
Tuesday 15 September 2015
There's probably loadsanews out there which hasn't come our way yet in the weeks since we were last here.  We've had the whole month of madness aka the Edinburgh Festival Fringe (and the rest!) through August since then when half the world (it seems) arrives here.  But no news!  Weird.
---
Wednesday 9 September 2015
The Edinburgh FC AGM took place tonight. But what a curiously small attendance.  Holidays no doubt removed some 'usual' faces but what about everyone else?  Where were you all?
An important item of news from the AGM is that weel-kent face-about-the-club, Murray MacLeod, has risen to the occasion and is now EFC's vice-chair.
Wrote Paddy Bort: "Following the sad passing of Anne Hand, Murray Macleod was elected as the new Vice-Chair of Edinburgh Folk Club at the AGM on 9 September 2015. He will serve alongside the other re-elected members of the EFC Committee: Kathleen Smith (Secretary), John Hargreaves (Treasurer) and Paddy Bort (Chair).
"Murray is a well-kent face around the Edinburgh Folk scene, a fine guitarist, singer and songwriter. His vast knowledge and expertise regarding the Scottish and international folk community will stand the EFC Committee in good stead.
"He has played on a number of albums and he has toured festival and folk clubs in America with the singer Fiona Ross (who now bides in Australia)."
The committee now comprises ...
Paddy Bort (chair)
Murray MacLeod (vice-chair)
Kathleen Smith (secretary)
John Hargreaves (treasurer)
Of note also was the treasurer's report telling us of the near breaking-even of the club in the year 2014-2015. Compared to recent years that was a great result! 
---
Sunday 2 August 2015
The Edinburgh Festival Fringe and the "official" festival both kick off on Friday 7 August 2015, less than a week away.   Maybe you will spot our new venue on your cultural perambulations around the city.  Also, of course, the Acoustic Music Centre @ St Bride's opens its doors on Monday, 10 August (until Sunday 30 August), with a very attractive programme of 133(!) shows.  Paddy will be ensconced at the Oak, as per usual, from tonight for Festival Folk @ The Oak / The Wee Folk Club which runs from 1 to 30 August.  Between 12 and 17 August, however, he's away on a wee tour through Scotland with 19 retired teachers from Germany, so Moira Burns, Murray Macleod and John Hargreaves have kindly agreed to deputise for him.

If you have any news from your festival or holiday wanderings send it to us - to either Paddy or John Barrow
 
---

Sunday 2 August 2015

Coda Music (Bank Street, aka The Mound) is the only music store in Edinburgh specialising in folk / acoustic / Celtic music and celebrates its 25th anniversary with free in-store gigs on Sunday 9,  Saturday 15 and Sunday 16 August.  Do go and help Rose and Dougie to celebrate this unique and mightily laudable achievement!
---
Saturday 1 August 2015
Nor is this bit of news the best either!

The club has been informed by EUSA (Edinburgh University Students' Association) that the Pleasance will undergo major refurbishments in the season 2016/17.  This means that we have to look for an alternative venue for that entire season, from September 2016 to July 2017.
If anyone has any ideas for a replacement venue, please do get in touch with Paddy.

We might not get a new place that has all the advantages of the Pleasance Cabaret Bar (like ... easy parking, cheap drink, in-house PA, perfect size and lay-out), but perhaps we can off-set some of the disadvantages (like ... high rent, noise interference).

Happy hunting!
 
---
Monday 15 June 2015
Unfortunately the first piece of 'real' news is sad news ...
From Jim Hand
"Sadly, my amazing mum passed away on Wednesday 10 June 2015 at the Marie Curie Hospice in Edinburgh. Myself and family are devastated but can take some comfort knowing we were all with her and she passed peacefully. Also the staff at the hospice were incredible.  Mum's funeral will be held next Wednesday 17 June 2015 at St Columba's RC Church, 9 Upper Gray Street, Edinburgh,
EH9 1SN
at 11am followed by internment at Mount Vernon Cemetry, 49 Mount Vernon Road, Edinburgh EH16 6JG at about 12.30pm. I thought I would share this with any of you who knew my mum.  All are welcome to come and give thanks for mum's life next Wednesday.
EFC: Anne was vice-chair of EFC for several years and, along with her long-time friend Kath could always be relied on for a smile and a lovely welcome 'at the door'.  A lovely lady who will be missed.
EFC offers its sincere and heartfelt condolences to Anne's family and friends.
---
Monday 15 June 2015
This page's headline (
We Hear ...
) is a simultaneous nod to the back page of
SANDY BELL'S BROADSHEET
, of ancient fame, and to the founding chair of EFC (and one of the three editors of the Broadsheet), the late
Ken Thomson
, who coined the moniker. 
---
Monday 15 June 2015
The first day of this new EFC website. Bookmark it now.  The site will be under fairly continual development for a while yet but the essentials are here now. 
---