THE PADDY BORT FUND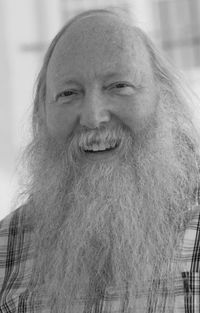 Dateline: Thursday 17 September 2021
In February 2017 EFC's widely respected chair, Eberhardt "Paddy" Bort died suddenly (pic right). The club ran a fund raising concert at Edinburgh's Queen's Hall in Paddy's memory during June 2017 and created the Paddy Bort Fund (PBF) from the concert's profits. The sole intention of the PBF is to provide financial support to professional folk performers who may be in financial difficulties through no fault of their own.

The COVID-19 pandemic meant that this fund became more necessary as time passed. Many, many professional folk musicians were and still are
severely hit as a result of the pandemic.
Those of us who have an interest in the well-being of professional folk performers need to help support those who give us all so much pleasure and entertainment in normal times.

Initially in mid-2020 when we began publishing Carry On Streamin, we set out to raise £10 000 (or more as necessary). That was realised by about mid-September 2020.
So, it was necessary to set another £10 000 target and that target is still out there although we've raised about £7 000 towards it. Once again we're appealing to the folk fans and our friends out there across the world to contribute.
As of the present dateline we've distributed almost £17 000 to almost 70 performers so 'do the math' as some folk say - we need to continue our fund-raising effort to replenish the rather depleted PBF.
We are of course stepping up our own direct fund-raising efforts ...
Our crowdfunding page on

GoFundMe

opened on Tuesday 4 November 2020 to receive your donations.


Still in operation at the current dateline

Volume 1 of the Edinburgh Folk Club CD is now on sale by download only from

Bandcamp.




Still on sale.

We're discussing Volume 2 of the Edinburgh Folk Club CD which will be available by download only from Bandcamp (most probably). We don't have a release date yet but you can bet you'll hear about it when we have it ready!


Still discussing!

Alastair MacDonald

, one of Scotland's great folk performers who has been on the scene since the 1960s, has produced single handedly a CD of the songs of

Dominic Behan

with the title, "Paddy's Choice" (geddit!?) and donated it to us. All proceeds from its sales on

Bandcamp

come to the Paddy Bort Fund.


Still on sale.

An illustrated book of folk songs with an accompanying CD is in preparation by our great Geordie folk singing friend,

Jed Grimes

, who also happens to be a graphic artist. This will be sold to the general public but it will also have a place in the educational market place as well.


Still in preparation.

PBF has benefitted thanks to Edinburgh FC members Allan and Rosemary McMillan from the sale of their book of daily verses written during the lockdown in the first wave of the virus in 2020. See the advert (right) then email

Allan

to purchase. Entitled,

Scottish Domestic Bliss 2020 Lockdown

it is published by

Grace Note Publications

.


Still on sale.

We have to thank all the performers who have donated, and continue to donate, the video tracks which go into the fortnightly Carry On Streamin video 'concert' compilation.
Finally with folk over at the Howth Singing Circle near Dublin we organised a joint 'Zoomed' Burns Night. This was not intended as a fund-raiser per se but it was a great affair with people all around the world tuning in on-line to watch the festivities.


A very well-received successful event.
So, while EFC may have had to close its live performances for about 18 months, we most certainly were not inactive!
EFC re-opened it's live weekly shows on Wednesday 15 September 2021. Some very happy smiling faces completely enjoyed great performances by Rab Noakes and support act Elaine Lennon.
---

---
CARRY ON STREAMIN ... was intended to help raise money for Edinburgh FC's Paddy Bort Fund. We published this on-line magazine fortnightly from mid-April 2020 until late August 2021, along with its companion video compiled using tracks donated by a range of folk acts. The magazine contained news-ie snippets from 'wherever' (no borders here!), album reviews, interviews, articles of all kinds, pictures ... and anything else we feel like including. Many thanks to the contributors - in print and in video - who helped keep our show on the road. However, by late July 2021 with the pandemic looking to be waning and the PBF receiving fewer appeals for help, we decided CoS had served its useful purpose and the last two editions (CoS 2.01 and 2.02) were monthly. We will now be publishing a much simpler club newsletter on two sides of A4 starting next week (Monday 20 September 2021).
There's also of course(!) a PayPal button here to so you can donate whatever sums you like to the cause / PBF.
---
CARRY ON STREAMIN
ARCHIVE OF VOLUME 1
---
---
CARRY ON STREAMIN
ARCHIVE OF VOLUME 2
---