21st CARRYING STREAM FESTIVAL
ANNUAL LECTURE
12:30pm, Saturday 12 November 2022
Scottish Storytelling Centre, 43-45 High Street, Edinburgh EH1 1SR

A Celebration of the Life & Legacy of Hamish Henderson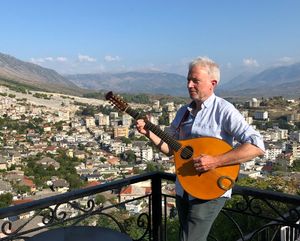 WHO'S LISTENING?
Lecture by Tom McKean, Director, Elphinstone Institute, University of Aberdeen
Songs are meant to be sung and heard. But many of the most revered Scottish singers of the past had a narrow, or sometimes no audience. Drawing on the song traditions of Willie Matheson, Lucy Stewart, Elizabeth Stewart, and Lizzie Higgins - some of Hamish Henderson's key contacts in the North East of Scotland - Tom McKean's talk explores the rich dynamic relationship between the oral tradition and print, and our understanding of what is performed and communicated (and what it means) in small scale and domestic settings.
As Director of the Elphinstone Institute at Aberdeen University, Tom McKean (pic right), a former student of Hamish Henderson, is an internationally recognised folklorist, holding posts as Vice President of SIEF (The International Society of Ethnology and Folklore) and Convenor of the British Folklore Studies Section of the American Folklore Society.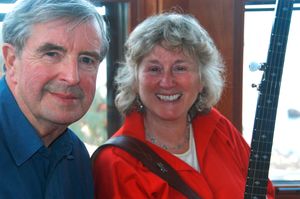 Alison McMorland and Geordie McIntyre (pic left) have again agreed to come along and give us some songs as they have done many times at previous lectures.
As usual the lecture is free but ticketed (and there are only 99 seats available).
Tickets can be obtained now from the Storytelling Centre's box office at 0131-556 9579 or on-line HERE.
IN THE FOOTSTEPS OF COLM CILLE
Saturday 12 November 2022 at 3:30pm
(doors/bar 3pm)
Ukrainian Community Centre, 14 Royal Terrace, Edinburgh EH7 5AB
Tickets: £10 (general), £7 (EFC members) on line HERE or at the door from 3pm.
---
Right after the lecture ends the festival hosts In the Footsteps of Colm Cille. Scots fiddler Paul Anderson and Francy Devine organiser and singer at the Howth Singing Circle near Dublin, will be doing a presentation about the project, In the Footsteps of Colm Cille.
Francy Devine is a poet, songwriter and an outstanding singer who has a grasp of the intricacies of Scots and English singing as well as that of his ancestral Ireland. He has a wide repertoire of traditional and contemporary songs, some of the latter being Francy's own creations. Those who have seen the joint 'Zoomed' Burns' Night celebrations in January 2021 and 2022 which featured both Edinburgh FC and the Howth Singing Circle will likely have seen Francy in action.
Already something of a legend in the time honoured fiddle tradition of Scotland, Paul Anderson is the finest Scots fiddler of his generation. Although only in his forties, he is already something of an icon in Scotland, a fact duly recognised by two specially commissioned portraits of him, a life size one in Aberdeen Art Gallery and a study which is in the care of the National Portrait Gallery in Edinburgh.
As a youngster starting off playing fiddle, for a short time Paul received private tutoring from Angus Shaw of Banchory before going on to study for several years with Douglas Lawrence of Buckie. Douglas was a Golden Fiddle Champion in 1979 and was the most acclaimed pupil of Hector MacAndrew, the finest Scots fiddler of the 20th century and a player who could trace his fiddling lineage directly back to Niel Gow and the Golden Age of Scottish fiddle music. Gow is regarded as the father of Scottish fiddle music and was a legend in his own lifetime, having played for Bonnie Prince Charlie in 1745 and being visited by Robert Burns during his highland tour. Hector's grandfather was taught by James Mackintosh of Dunkeld who was the last pupil of Niel Gow. Therefore Paul is part of a teaching lineage which stretches right back to before 1745 and the time of Gow.
You can hear some of the show here - or, from the book/CD, here.
Saturday 12 November 2022 at 8:00pm (doors/bar 7:30pm).
Ukrainian Community Centre, 14 Royal Terrace, Edinburgh EH7 5AB.
Tickets: £10 (general), £7 (EFC members) on line HERE or at the door from 7:30pm.
---

The Banes o the Turas is an entirely appropriate show to include in this year's Carrying Stream Festival. The show is based around poems written by the Italian poet Pino Mereu who wrote the poems having met Hamish Henderson in Rome. Pino came to Scotland for the launch of Douglas Eadie's film about Hamish (shown on BBC Scotland) where he then met amongst many others Margaret Bennett, Dolina MacLennan and Sheila Stewart. Pino returned to Italy inspired and penned a series of poems in tribute to Hamish, Gramsci and all those he met and have influenced him. The book is to be published by Tippermuir Books and is a translation into Scots from the original Italian of Pino's book, Turas Viaggio.
The book will have been launched in Blairgowrie on Friday 11 November 2022 with a small gathering of poets and musicians. It's quite a special moment to celebrate such a thing in the birthplace of Hamish on the date of his birth, but then to bring the book and celebrate it more widely in Edinburgh and as part of the Carrying Stream is most certainly the icing on the cake!
The show is a blend of readings from Pino's book, The Banes o the Turas, and music which fits the poetry. Poet Jim C MacKintosh will be reading and joined by the great piper Gary West (well-known to EFC as one-third of Brog) and singer Steve Byrne (member of the band Malinky and another familiar face and voice to EFC).
They will also be joined by Pino himself who is coming to Scotland from Rome for the occasion who may read one or two of the original poems and there will be some special guests saying a few words and contributing to what will be a memorable occasion.
With so many relevant links through Pino's poetry, it's easy to see quite clearly that this show is a must to include in this year's Carrying Stream Festival .
---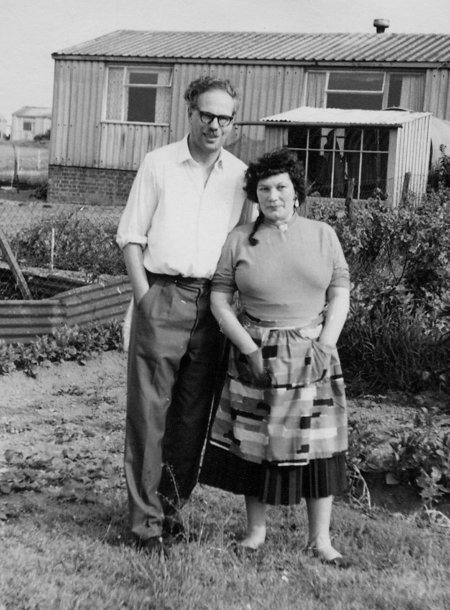 The CARRYING STREAM FESTIVAL is organised annually in November by the Edinburgh Folk Club to celebrate the life and work of the great Scottish folklorist and writer Hamish Henderson pictured here with Jeannie Robertson.
 
---