Dateline
:
Wenesday 26 October
2016
Scroll down for old news
---
Dateline: Wednesday 26 October 2016
CELTIC CONNECTIONS FESTIVAL
Wednesday 19 January to Sunday 5 February 2017
The festival's programme will be launched tomorrow, Thursday 27 October 2016, when tickets will be on sale from 10am.
Click on the link above to go to the festival's site. 
---
Dateline: Tuesday 11 October 2016

ANGUS GRANT: we are very sorry indeed to report that Angus Grant, fiddle player with Shooglenifty, died last night (Sunday 9 October) having succumbed at a ridiculously young age to the scourge of cancer. The band wrote on their FaceBook page, "It is with deep sadness that we announce that our brother Shoogle, Angus R Grant, passed away last night after a short illness. We would like to thank his doctors and the team from St Columba's Hospice who enabled him to die peacefully at home surrounded by family and close friends." 
And from their website, "Shooglenifty's hirsute and obliquely-spoken fiddler took his native West Highland traditions onto a truly international stage, while hurling them headlong towards the 21st century. Taught since childhood by his father, the renowned left-handed Lochaber maestro for whom he was named, Angus was lured south in the late 80s to join Swamptrash, out of which Shooglenifty was spawned". 
The Shoogles have had a tough time of late having also had drummer James MacKintosh (ibid) out of action from about mid-August with health problems hospitalising him for a while. We understand that James is recovering well now though. Strength! 
 
---
DICK GAUGHAN … HOT NEWS 
TICKETS are now on sale for a very special concert. Sunday 27 November in Edinburgh's Festival Theatre will see BILLY BRAGG, PHIL CUNNINGHAM and ALY BAIN, and KARINE POLWART all performing to help raise funds for Dick and his family. Expect to see more performers announced in the next week or two. Click here to buy tickets. 
 
---
SCOTTISH ALBUM OF THE YEAR AWARD ceremony takes place at Paisley's The Spree Festival on Wednesday 19 October 2016. "How does winning Scotland's national music prize affect an artist's career? How does social context affect the way music is made? When times are hard economically, does culture become more important and valuable? 
"Hear the answers to these questions and more as you join us at The Spree, Paisley's National Arts Festival, for an exclusive night celebrating five years of The SAY (Scottish Album of the Year) Award; Scotland's most lucrative music prize. 
"Hosted by the Scottish Music Industry Association's Chairman, Dougal Perman, the event will see past winners of the award, including this year's winner Anna Meredith, Kathryn Joseph (2015) and RM Hubbert (2013), joined by notable music industry figures, including Stewart Henderson (Chemikal Underground) and Tim Brinkhurst (Soul Punk Management), discussing creative processes, influences, Scottish music and what it takes to write and record an award winning album. 
"The event will feature intimate stripped back performances, followed by a SAY Award themed DJ set, as we take a look back on five great years championing Scottish music." 
 
---
A NEW McCalmans' CD, not a common event these days, slated for release on November 5, is available NOW! The album contains 19 never-before -released songs ranging from a previously undiscovered, brilliant Nick Keir song (full band) to recordings from the first line-up of the trio which didn't 'make the cut'. Says Ian McCalman, "Over 500 cassettes, reel-to-reels, "live" recordings, minidiscs, radio/TV shows, LPs, digital tapes, CDs and DVDs were meticulously listened to, so that the chosen songs are the best of the McCalmans at the time of recording. There are tracks from every decade and every line-up of the Macs." Click on the link above to buy the CD from McCalmans' CDs page.
 
---
CAMBRIDGE FOLK FESTIVAL
will no doubt be looking for a new director/manager with the recent news that the long-serving Eddie Barcan is moving on after 27 years in the job. Cambridge Live, the company now behind the festival said, "Now, in our second year of operation, we have has been looking at the future development of both the festival and also the wider outdoor cultural calendar that it delivers. In doing so a strategic plan for the future of the Folk Festival has been developed that is vibrant, sustainable and that builds upon the success of its 52-year history. 
"At this stage in the event's development, Eddie has taken the decision to move on from the organisation and to pursue other career opportunities. We recognise the huge contribution that Eddie has made to the success of the Cambridge Folk Festival over the past 27 years and would like to extend our thanks to him for his dedication. We also wish him the very best with his future plans and hope to continue to work with him on the Folk Festival and future projects." 
To which Eddie added "This has been a difficult decision. However, due to strategic developments within Cambridge Live, the time is right for me to move on to new opportunities. I go with many happy memories, having managed the Festival for close to two decades and programmed 23 consecutive sell outs. My sincere thanks to all the agents and managers I have worked with, for helping to bring so many amazing artists to the Festival. 
"I continue to programme the Avalon Stage at Glastonbury Festival and will start work on this in December (email me here). I'm also keen to get involved with new events and I look forward to working with you again in the future." 
 
---
TRADFEST 2017 FESTIVAL (Dublin) runs Wednesday 25 to Sunday 29 January 2017 and is shaping up to be one of the best yet, with a roll-call of trad legends and new artists who are reinventing their genres. Acts include folk rock legends Fairport Convention celebrating 50 years in music, Maria McKee making her long awaited return to Ireland, the exhilarating Afro Celt Sound System, multi-instrumentalist, singer-song writer Sarah Jarosz. The Trad Gala night returns with favourites Altan, Four Men & A Dog and Boffin to Burren featuring Dessie O'Halloran. There's also a host of up and coming acts including The New Folk, an evening showcasing the very best of folks' female future featuring The Evertides, Lisa Canny and Nicole Maguire. 
TradFest 17 will also see a series of unique collaborations including Hazel O'Connor & Cormac De Barra, Paddy Casey and Mundy and Crannua featuring John Doyle, Cormac and Éamonn De Barra, Ashley Davis and special guest vocalist Moya Brennan. Book now! 
 
---
LE QUECUMBAR is the venue to visit in London if you're into gypsy jazz. Their October programme continues with … Sunday 16 October and Monday 17 October from Paris, The Romain Vuillemin Quartet. Romain plays with all the top Manouche players through out France and further afield. 
Then on Sunday 23 October, Trio Manouche, probably the UK's leading Gypsy swing band, fronted by Simon Harris and with huge following. Book well in advance! 
Next night, Monday 24 October, Coco'n'The Fellas. 
And, to nearly close the month on Sunday 30 October, Troika The Klezmer Hot Club. "A rip- roaring helter-skelter dash from the Dark Dens of Yiddish Odessa in 1905 to the Sophisticated Cafe Society of Hot Club Paris of the 1930's". 
But, then and finally, on Monday 31 October, The Dario Nappoli Modern Manouche Project from Italy. Dario is on a whirlwind tour of Ireland and the UK 
 
---
JOHN PRINE, legendary American songwriter, tours in the UK next year. Gigs now on sale are … April 21, London Palladium (W1F 7TF) – tickets £32.50 ('gods'), the 'rest' £35; April 23, Glasgow's Royal Concert Hall (G2 3NY) – tickets from £33.00; and April 24, Manchester's Bridgewater Hall (M2 3WS) tickets from £29.25. 
 
---
TEDDY THOMPSON is at Backstage Kinross on Thursday 25 November. But that gig is sold out already! Not to worry though, promoters Mundell Music have added an extra gig on Friday 26 November – which was not sold out at time of writing - get tickets here. 
 
---
KIERAN HALPIN, the great Irish singer and songwriter . Just while we're talking about tours … has just published his latest gig list. Click the link above to go to Kieran's website. 
 
---
LEITH FOLK CLUB say, "We can never have too many people helping to run the Leith Folk Club. We're always looking for people of any age with an interest in live music, so if you'd like to get involved and join the committee, either fill out a form on our contact page, drop us an email or just come up and chat to one of us at one of our weekly Tuesday night gigs. We're very friendly (honest!) and you'll be made very, very welcome indeed! There may even be biscuits or a clootie dumpling or two!!" 
 
---
EDINBURGH FESTIVAL FRINGE will be out-n-about with roadshows to explain what the Fringe is all about and how to bring your show to the festival. They'll be pitching in London on Saturday 26 November (some venue managers will also be there). Then on Friday 2 and Saturday 3 December in Edinburgh it'll happen all over again with How To Do A Show" on Dec 2 and Venue Marketplace on Dec 3. 
 
---
REMINDERS IN BRIEF … 
SHOWCASE SCOTLAND: The Visit 
Apply by Friday 14 October 2016 
Download application form here (pdf) 
This fund invites international promoters [this year from North America and Europe] to watch performances and offer acts tour dates in their countries. Acts applying must be Trad/Folk/Gaelic/World music acts. "The Visit" dates are are April 3 to 7 2017. 
MADE IN SCOTLAND 2017 
Apply by Monday 21 November 2016 
This fund offers financial help to artists based in Scotland to put on gigs at Edinburgh Festival Fringe. Genre is fairly wide open. Live information sessions are offered on Thursday 6 (Glasgow) and 13 October (Edinburgh). 
BBC RADIO 2's Young Folk Award is open to soloists, duos and groups aged between 16 and 21. You must be resident in the UK, the Isle of Man or the Channel Islands. To enter download this entry form. Deadline for entries is 23:59 on Wednesday 30 November 2016.
---
BOO HEWERDINE plays Friday 7 October at Biggar's Red Road Cafe, High Street ML12 6GL (support Dan Whitehouse).
---
The FRIENDS OF THOMAS MUIR symposium SCOTTISH and IRISH RADICALS is on Wednesday 13 October (12.30pm) at Bishopbriggs Academy, Wester Cleddens Road, Bishopbriggs, Glasgow G64 1HZ. Write to dwmmartindon@live.co.uk to attend.
---
CONFESSIONS OF A REFORMED FOLK SINGER – with BOB PEGG is in the Croft (behind the Caledonian Hotel), off High Street, Dingwall on Friday 14 October at 8.00 pm. Part of the WOTS (Word On The Street) Festival.
---
FALKIRK LIVE MUSIC FESTIVAL runs Friday 14 to Sunday 16 October. Ticket hotline: 01324 506850.
---
ORCHYSTRA in Bridge of Orchy. Traditional fiddle playing courses/workshops October 14 – 21. See advert. Andy Freeland (m: 07434 661147).
---
MELANIE cancelled Saturday 15 and Monday 17 October at Kinross' Back Stage at The Green Hotel.
---
FREELAND BARBOUR presents his book The Music and the Land, at Edinburgh Central Reference Library on Friday 20 October at 7.00pm to 8.00pm. Click here to book online or t: 0131 242 8050 (Central Music Library).
---
The SCOTTISH INTERNATIONAL STORYTELLING FESTIVAL runs Friday 21 to Monday 31 October
---
DUNFERMLINE FOLK WEEKEND runs Friday 28 to Sunday 30 October.
---
GALLAGHER & LYLE at Backstage, Kinross in November. Friday 4, Saturday 5, Saturday 12 November – all SOLD OUT. Friday 11 November has limited availability (as of Oct 9).
---
The CARRYING STREAM FESTIVAL (#15), EFC's annual tribute to the late Hamish Henderson runs Wednesday 9 to 16 November 2016 (inc). Tickets are now on sale from usual outlets.
---
EDINBURGH CEILIDHS' Lauriston Halls, 28 Lauriston Street, EH3 9DJ on Friday 25 and Saturday 26 November from 8pm to 11pm. The first 10 tickets are £6 or £8 in advance and £10 pounds 'on the day'. Buy 9 or more tickets for 10% discount (one free). Click here to buy or t: 0131 339 5374 (24 hours) or from Tourist Office, Princes Street. NB ladies: no stiletto or high-heeled shoes please. 
EDINBURGH CEILIDH CLUB host dances at Summerhall and Assembly Roxy through to Friday 9 December. Click the link for details. 
IRISH DANCE CLASSES in Edinburgh are advertised on the last page of this newsletter. Click here to book.
---
TRAD TALK EXTRA: MUSIC on Sunday 27 November (12-6pm) at The Tolbooth, Stirling. Click here to email your ideas. Book your place – click here.
---
The MG ALBA Scots Trad Music Awards are in Dundee's Caird Hall on Saturday 3 December 2016 followed by a late night ceilidh until 1am. 
---
CELTIC CONNECTIONS runs Wednesday 19 January to Sunday 5 February 2017.
---
LA BANDA EUROPA performs "We Are An Ocean" at Celtic Connections festival January 29 2017.
---
Dateline: Friday 16 September 2016
This "OFFICIAL" statement concerning the health of Dick Gaughan has been posted on FaceBook earlier this week.

It has been observed that Dick Gaughan's performances in recent months haven't been "full-strength Dick Gaughan". 
Dick has just authorised me to circulate this statement about his health. 
--- 
This statement about Dick Gaughan's health should be read before reading or believing anything else. 
Dick has now stated publicly at two recent gigs that, "In order to prevent rumours spreading, I think I have had a stroke". 
It is untrue to say that he cannot sing or play guitar. 
However in saying what he has said, Dick is acknowledging that 'something', as yet unconfirmed, is not right. 
Dick has an appointment with a neurologist in early October 2016 when the situation will, it is hoped, be clarified. 
Until then "I think I have had stroke" is not an opinion based on medical fact. 
================== 
Watch this space for updates.

Also, to help Dick through what is proving to be a generally very difficult time, click here to go the official crowdfunding site raising money on his behalf.
---
Dateline Monday 13 June 2016

FESTIVAL FOLK AT THE OAK - Edinburgh Festival Fringe - August 2016
Royal Oak downstairs lounge, Infirmary Street EH1 1LT

Tickets on line from Edinburgh Festival Fringe box office or call 0131-226 0000

Fri   5   Fraser Nimmo 
Sat   6   Skinner & T'witch 
Sun   7   Landermason 
Mon   8   George Duff & Kevin Macleod 
Tue   9   Pete Davies 
Wed 10   Paula Ryan 
Thu 11   Murray Macleod & fiddler 
Fri 12   Robin Laing 
Sat 13   Ian Bruce 
Sun 14   Jim Malcolm 
Mon 15   Ragged Glory 
Tue 16   Jed Grimes 
Wed 17   Jamie Laval 
Thu 18   Dave Gibb 
Fri 19   Kevin Macleod, Leo McCann & George Duff 
Sat 20   Jim Bainbridge 
Sun 21   Kieran Halpin 
Mon 22   Frank McLaughlin & Stewart Hardy 
Tue 23   The John Hinshelwood Band 
Wed 24   Gilly Hewitt 
Thu 25   The Chilli Dogs 
Fri 26   Alastair McDonald 
Sat 27   Mick West & Frank McLaughlin 
Sun 28   Wendy Weatherby & Friends
---
Dateline: Tuesday 19 January 2016

This is really worth checking out!

Get your ears around this quite brilliant version of David Bowie's Young Americans recorded recently by Edinburgh duo The Jellyman's Daughter and (loads of talented) Friends at Napier University Music Dept's superbly equipped studios.  The mixing and mastering is by Edinburgh FC's talented young sound engineer, David O'Leary - and, as they say, "good job, David".
---

Dateline: Tuesday 19 January 2016

All you budding guitarists ...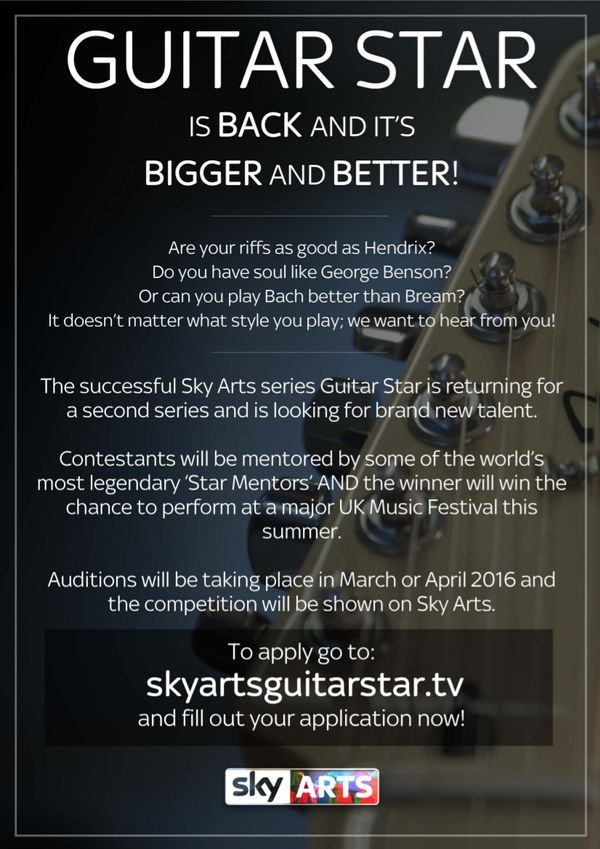 ---

Dateline: Monday 4 January 2016

Just received from Mark Neal organiser of the Edinburgh Ceilidh Club ...

We are delighted to be back for the new season of Edinburgh Ceilidh Club starting this Tuesday, 5 January, when we have the Lomond Ceilidh Band playing for us at Summerhall. Tickets are still a bargain at only £6 available on-line here from the box office at Summerhall or online through our website. 
Also don't miss our next Ceilidh club @ The Assembly Roxy with Teannaich on Friday 15 January. Doors open at 7:15pm with dancing kicking off from 7:30pm.  Again,  you can buy tickets online or in person from Tickets Scotland (Rose Street). 
Coming up this month at Summerhall we have: 
Tue 12   Heeliegoleerie
Tue 19   Tay Ceilidh Band
Tue 25   The Jimi Shandrix experience 
www.facebook.com/edceilidh
Twitter @Edceilidh 
---
Dateline: Sunday 3 January 2016
One of the Defining Voices of Scottish Folk Music 
Andy M Stewart (1952-2015)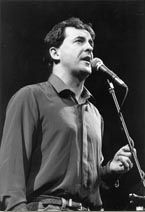 The year 2015 that had already deprived us of the presence of, among others, Flora MacNeil, Packie Byrne, Jean Ritchie and John Renbourn closed with the sad news that the extraordinary Scottish singer, songwriter and entertainer Andy M Stewart had passed away on 27 December, after a long illness. 
Alyth-born Andy M come first to the fore in a band called Puddock's Well, which he had formed with Dougie Maclean and Martin Hadden in their hometown Blairgowrie. When they shared a stage with Silly Wizard at the folk club there, it lead to him being invited to join the trail-blazing Edinburgh-based band in the mid-1970s. 
He is featured – alongside Johnny and Phil Cunningham, on nine recordings the band made between 1976 and 1988. After Silly Wizard broke up in the late 1980s (to be reunited a few times at Celtic Connections), Andy teamed up with Manus Lunny of Capercaillie and, later, with the Irish guitarist Gerry O'Beirne. He recorded for more albums. Three years ago, the album 'Live Again' was released (originally recorded in Cambridge, Massachusetts in 1983). It gives a brilliant glimpse of one of the finest folk bands Scotland has ever produced, brim-full of craic and crackin' tunes and songs, some of them penned by Andy M Stewart himself: 'The Valley of Strathmore' and 'The Queen of Argyll' became nigh-synonymous with band's fiery style of music. 
It is a while back that Andy played his last gig at Edinburgh Folk Club, with Gerry O'Beirne. It was a memorable and hugely entertaining night, featuring some of his trademark songs like 'The Parish of Dunkeld', 'The Ramblin' Rover', 'Take Her in Your Arms' and 'The Errant Apprentice'. We had booked Andy a few years back for a return to the Club, but he had to call off due to health problems. The last few years were marked by prolonged illness, which took a dramatic turn for the worse after a failed spinal operation in 2013, which left him paralysed from the chest down. He suffered a stroke in early December 2015 and, finally, succumbed to pneumonia. 
For years, Silly Wizard was Scotland's foremost folk export – they were hugely popular in America and in Germany. 'Live Again' is a fine testament to the contribution Andy made to Silly Wizard, and if you'd like a visual memento which shows him in his prime, singing, playing the banjo and raconteuring as if there was no tomorrow, watch the Silly Wizard show Live at Center Stage in Atlanta 1988 which you'll find on YouTube. Fun, excitement and deep feeling for music and song – Andy was one of the great voices of Scottish song, his own songs will live, his performances are already the stuff of legend. The folk scene mourns the passing of one of their finest.

Scotsman Obituary
Herald Obituary
---
Dateline: Saturday 19 December 2015
The Wee Folk Club
, one of Edinburgh's other two folk clubs, meets every Sunday night at 8pm in the downstairs lounge of the
Royal Oak pub
in Infirmary Street (off the South Bridge)
JANUARY 2016  3   Skinner & T''witch
10   Grant Simpson
17   Ian Bruce
24   Skirlie
31   Kevin Gore   
For further info about WFC
email Paddy Bort
(and yes, t'is he who is also Edinburgh FC's chair; busy guy).
BTW, "Wee" is absolutely correct - there are only about 30  seats in this venue so get there early.
Each August Paddy runs WFC every night as a contribution to the folk music activity 'on the Fringe' 
---
Dateline: Saturday 19 December 2015
And, while we're about it, here's
Leith FC's
giglist for Jan-early April 2016.
The sharp arithmetic types with a sense of geography amongst our readers will realise that Leith FC is the third of Edinburgh's folk clubs.
Leith FC meets every Tuesday night at 8pm in the
Victoria Park House Hotel
, 222 Ferry Road, EH6 4NN.
Email Leith FC
to reserve tickets for gigs.
JANUARY 2016
  5   Dick Gaughan
12   Gillywolfe
19   Brack n File
26   Gilly Hewitt Band

FEBRUARY 2016
  9   Ragged Glory
16  Sandy Brechin and Ewan Wilkinson
23   The Jellyman's Daughter

MARCH 2016
  1   Dean Owens
  8   Rod Sinclair
15   The Mick West Band
22   Tom Clelland and friends
29   Brian O'Headra & Fiona MacKenzie

APRIL 2016
  5   Landermason
12   Fraser Bruce
---
Dateline: Wednesday 9 December 2015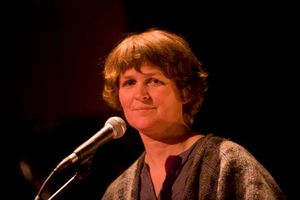 Mairi Campbell
Just received Mairi Campbell's newsletter (December 2015 edition).
Loads of good news items in it, plus "Auld Lang Syne".
Click here to see Mairi's newsletter
.
See also in the previous news post about Mairi's success at the Scots Trad Awards. 
---
Dateline: Wednesday 9 December 2015
Scots Trad Awards
Click on the link above to go to a review of the awards and the list of winners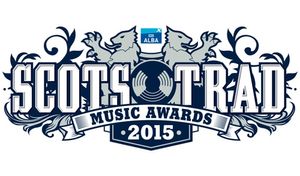 The latest edition of the Scots Trad Awards - or, to give them their Sunday name, the MG Alba Scots Trad Music Awards - took place in Dundee's Caird Hall on Saturday 5 December 2015.  Edinburgh FC is pleased to note and applaud
Mairi Campbell
who, " ... following her ground-breaking project, Pulse received the award for Instrumentalist of the Year."
This event was broadcast live on BBC ALBA and BBC Radio Scotland plus, for the first time, it was streamed live world-wide through the BBC ALBA website.
If you missed the awards you can catch up on the BBC iPlayer -
click here.
---
Dateline
:
Saturday 7 November 2015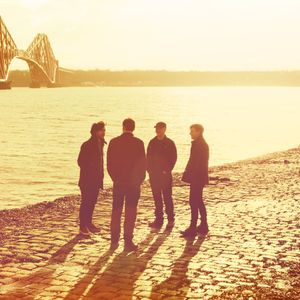 THE DAVID LATTO BAND
from Fife played two sell-out shows at this year's Acoustic Music Centre @ St Bride's.
"I will admit to being an Edinburgh Festival virgin and going across to see a show had never really appealed to me before. But after I heard that Fife's very own The David Latto Band were playing, I knew I had to shimmy through.
"The band made their debut at the Edinburgh Festival Fringe as they played a stripped back acoustic set at the Acoustic Music Centre @ St Bride's at the weekend, both of which were complete sell outs.
"From the moment that they stepped on stage until they left, they had the crowd in a trance with their Americana tinged alternative country sound. Despite the majority of their songs being about drinking and suffering from a broken heart, there is something uplifting about their music that makes everyone smile. And that is exactly what happened on Saturday night.
"It is easy to see why the boys sold out both their shows. The band are tight and work well together and the songs flowed with ease into one another. As one woman remarked upon leaving: "These guys are my new favourite band! I want everything that they have recorded". I couldn't have said it better myself. A job well done, lads.
Original review - "Fife Today" (Dawn Renton: Aug 17 2015)
And David reflects ...
OCTOBER is a good month for reflecting. As I write this, the date is the first of October and our year is starting to wind down-in some ways. Our busy summer of performing throughout the Edinburgh Fringe is over and we can now turn our attention to the future.
Being in a band often feels like being on an expedition; we know what we want to achieve but there's no map to guide us. We have to be cartographers, probing every inlet until the lay of the land is revealed. Sometimes you get bogged down in quicksand, or you spend too much time discussing the best possible route but other times you get to stand at the summit of a new mountain and enjoy the view.
Looking back on our year, we spent a lot of time mapping out the valleys, but that was our choice. We decided to dedicate this year to our own growth, back to basics, beavering away in our practice room on new songs and coming up with new plans. When we did get out to play we pushed ourselves to put on the best show possible. This culminated in two energising nights at the AMC during the Fringe and we will definitely be back next year.
So while the view from here is nice looking back, we now have to face the descent into parts unknown venturing into darkest Yorkshire early next year. I'm not sure what the rest of 2016 will have in store for The David Latto Band, but we feel positive about the direction planned. I know we'll be continuing to refine our art, releasing another album (we're all excited about this one), touring as much as humanly possible, making new friends and growing into the band that we know we can be.
David Latto
---
Dateline
:
Thursday 5 November 2015
Just seen on
FaceBook group Folk21
"Very sorry to report that prolific writer Julian JP Bean of Sheffield has passed away. Apart from writing, amongst many other great books the Official Biography of Joe Cocker JP also wrote the towering account and history of the folk club scene "Singing From The Floor". JP will be remembered fondly by so many but will never be forgotten on the English Roots and Folk music scene."
Book review (Guardian (Wed 24 Feb 2014)
---
Dateline
:
Friday 30 October 2015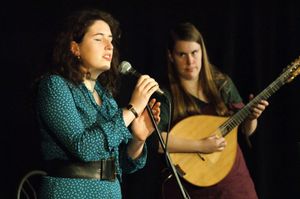 THE MUSIC HUB
on Bellman's Road, Penicuik is the home of 
BURNTOUT RECORDS
, a record label and live music promotions agency run by pupils at Penicuik High School, Midlothian. 
The next gig at The Music Hub is on
THURSDAY 5 NOVEMBER 2015
and features young up-and-coming Scots singer
Kirsty Law
and Norwegian instrumentalist
Marit Falt
(pic left).
Doors
: 7pm (bar open)
Showtime
: 7:30pm (musicians from Penicuik High School) and Kirsty and Marit on-stage at 8:20pm.
Tickets
: £5.00 in advance, £7.00 on the door.
From
: Penicuik Public Library and also
online
(Penicuik Library, Penicuik Centre, 39A Carlops Road, Penicuik EH26 9EP, t: 01968 664050, open from 9:30 am to 5:00 pm)
Burntout Records have been booking performers to appear in The Music Hub since 2008.  Having booked the acts, the pupils then 'do the business' by promoting and publicising the shows, selling tickets online and generally trying to engage the local and wider community in their activities. 
Over time their endeavour has been rewarded by being able to bring a range of acts to perform at The Music Hub - and richly rewarded they have been as well with acts of the calibre of Karine Polwart, James Grant, Blue Rose Code, Siobhan Miller (former pupil), Blueflint and Savourna Stevenson, to name but a few, performing there.
And long may it continue ... what a great initiative! 
---
Dateline: Thursday 29 October 2015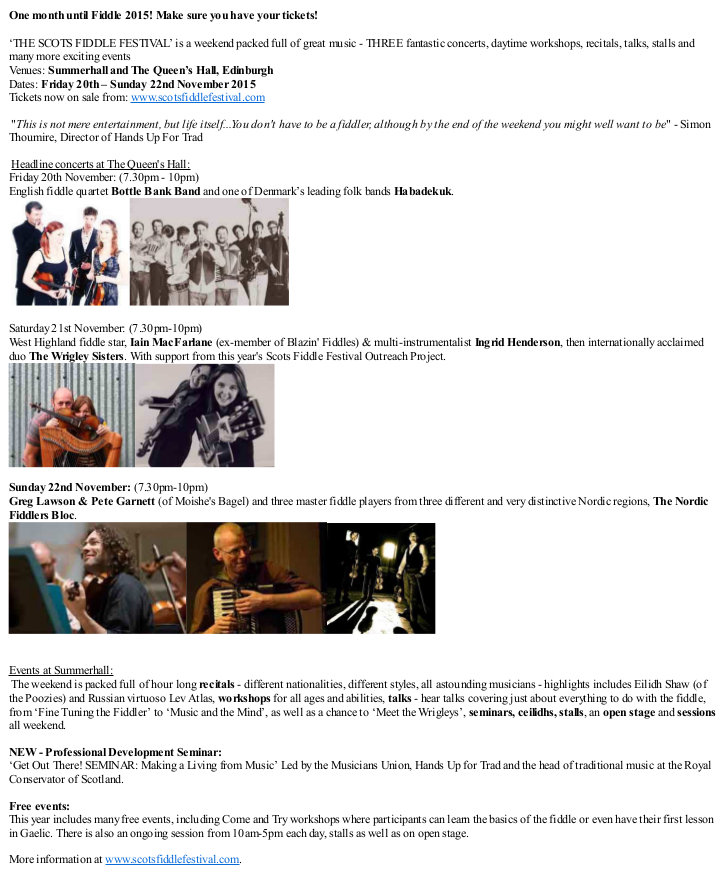 ---
Dateline: Thursday 29 October 2015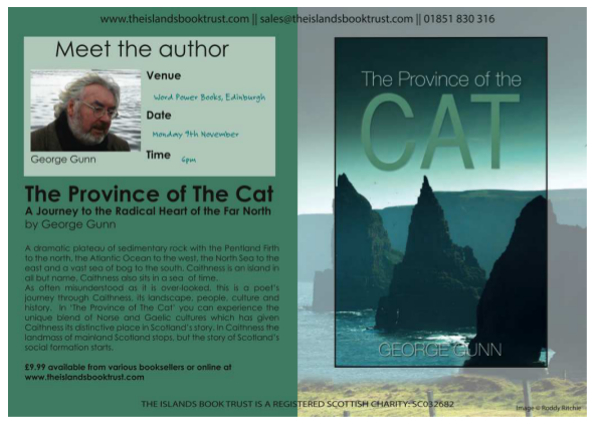 ---
Dateline: Tuesday 6 October 2015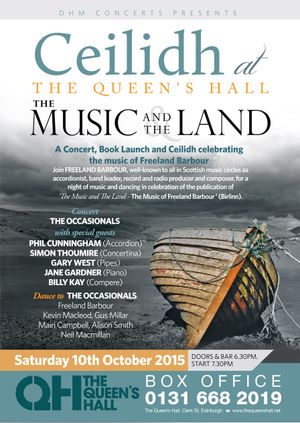 THERE'S A BIG GIG
coming up at
The Queen's Hall
in Edinburgh this weekend on Saturday 10 October.  Freeland Barbour is launching his new book - a veritable magnum opus entitled, The Music and The Land: The Music of Freeland Barbour (Birlinn).
Join Freeland, who is of course very well-known to all in Scottish music circles as an accordionist, a band leader, record and radio producer and composer, for a night of music and a ceilidh in celebration of the publication of the book.  In the first half of the evening, along with an array of special guests from the world of traditional music, Freeland will explore his life in music - a journey of words, photography and melody through the lands that have inspired his compositions. Travel with him through his legacy of musical influences and experiences playing with Silly Wizard, The Wallochmor Ceilidh Band, The Ghillies and The Occasionals - a wonderful tribute to Scotland's landscape and traditions.
In the second half dance the night away as The Occasionals take centre stage and enjoy the compositions for ceilidh dancing that have made Freeland one of Scotland's foremost traditional musicians.  With special guests: Billy Kay (compere), Gary West, Simon Thoumire, Phil Cunningham, The Occasionals (Freeland Barbour, Mairi Campbell, Kevin Macleod, Gus Millar, Alison Smith, Jane Gardner and Neil MacMillan). 
---
Dateline: Monday 5 October 2015
HIMMERLAND touring Scotland
(note from Eskil Romme)
Hello friends and colleagues in Scotland and around. HIMMERLAND, from Denmark - with special guest,
Eilidh Shaw
(of the
Poozies
) - are doing a short tour in Scotland this week.
Please spread the word to your friends and network.  Tak
October 2015
Thu 8   Dunfermline - Tiffany's Café, Carnegie Hall
Fri 9     Hatton Castle, Angus
Sat 10  Edinburgh - House Concert, 42 Royal Park Terrace
Information about the band
And listen here
---
Dateline: Saturday 3 October 2015
Thanks to EFC member Trish Santer who writes ...
Balerno Folk Club
began its new season in some style on Tuesday last, 29 September 2015 with guests
Mairearad Green and Anna Massie
. The club meets in Balerno Bowling Club's downstairs lounge on the last Thursday monthly through to June, apart from December, when there is the Christmas ceilidh on a Friday.  Start time is 8pm and admission is £8 non-members, £6 members; annual membership is a princely £4. The 44 bus runs almost to the door and there is oodles of free parking in the village.
Balerno also has its own
music festival
(the eighth) which began on Wednesday 23 September and runs until Sunday 11 October 2015.  There is a variety of entertainment with classical music, jazz, folk and children's events.
See here to buy tickets
but note that the folk concert was sold out ages ago! 
---
Dateline: Saturday 3 October 2015
Almond Valley Folk Club
meets in The Railway Inn, Main Street, West Calder (access for the disabled), on the third Tuesday monthly at 8pm.  The club organises three guest nights per year and the rest are sessions all with an 8pm start.  Admission to this friendly wee club @ non-members £6, members £4 is very modest.  The next club night, Tuesday 18 October 2015, is a guest night with "Forgaitherin", a four-piece group from
Glenfarg FC
.  
Email Anice Gilland
or t: 01506 87 31 82. 
---
Dateline: Saturday 3 October 2015
The annual
Scots Fiddle Festival
,
FaceBook
,
Twitter
runs from
Fri 20 to Sun 22 Nov 2015
with loads of great things on offer. 
---
Dateline
:
Wednesday 30 September 2015
Dapper's Delight
concerts in Edinburgh and Alva
Dapper's Delight explore historical popular music through energetic and highly entertaining performances.  Comprising the unusual combination of recorder and voice (Susanna Borsch) and anglo-concertinas and voice (Adrian Brown), this duo has won friends and admirers from both the folk and early music worlds with their energetic and entertaining performances.
The Early Music Forum of Scotland is very pleased to welcome Dapper's Delight for two concerts featuring music from the 16th to the 20th centuries.
The duo Dapper's Delight presents its take on historical popular music
with a rich tapestry of pieces from a variety of composers and styles.
Popular tunes and songs from the 16th to 20th century.
on-stage 7pm, Sun 11 Oct
The Kirk o' Field Centre
140 Pleasance, Edinburgh EH8 9RR
on-stage 7pm, Mon 12 Oct
Alva Parish Church
119 Stirling St., Alva FK12 5EF
Tickets: £10 and £8 (under 18s will be admitted free) - on the door
or in advance by email to
Alison Tollick
.
(sent by Alison Tollick: Chair,
Early Music Forum of Scotland
who says ... "Dapper's Delight are a very interesting duo who will appeal to both folk and early music audiences.  We very much hope that you can come along to one of these concerts.") 
---
Dateline
:
Sunday 27 September 2015
REPEAT NEWS
The renowned annual touring guitar show,
International Guitar Night
arrives in Edinburgh on Tuesday 29 September to appear at the
Grassmarket Centre's beautiful new venue
at the foot of Candlemaker Row.  This year's tour features four really world class players -
Lulo Reinhardt
(Germany),
Mike Dawes
(England),
Andre Krengel
(Germany) and
Brian Gore
from California who dreamed up the idea of the show about 15 years ago. 
The performance starts at 8:00pm (doors 7:30pm).
Tickets, £14 / £12, are available now from
http://bpt.me/2044077
or call 07968-131737 or buy at the door.
Don't miss this great show which is just one of a 20-date UK-wide tour (11 of the gigs are in Scotland).
Click here for the whole tour
.
---
Dateline
:
Tuesday 22 September 2015
Dancing to the Poetry of Life: Tessa Ransford (1938-2015)
Paddy Bort
On Wednesday, 2 September, the very sad news reached us that the revered poet and founder of the Scottish Poetry Library, Tessa Ransford, had passed away that morning. I had encountered Tessa for the first time in 1986, when she was part of a poets' delegation on tour in Germany. And when, in the 1990s, Tom Hubbard, Mario Relich and I began to meet regularly at the Royal Oak for a chat at Tuesday teatimes, very soon Tessa joined us in our endeavours to put the world to rights over a wee refreshment.
Sharing an interest in Hamish Henderson, Tessa became a contributor to the Carrying Stream Festivals which Edinburgh Folk Club has organised since Hamish's demise in 2002. We published a fine, and often-cited, chapter of hers in the first of four essay collections anent Hamish Henderson: 'Encompass the Crossed-Sword Blades: Hamish Henderson's Poetry' (in Borne on the Carrying Stream: The Legacy of Hamish Henderson, Gace Note Publications, 2010). Together with Tom Hubbard, she delivered the Hamish Henderson Lecture at the People's Festival. Her part appeared subsequently in Scottish Review and, shortly before her death, Tessa gave us permission to put that piece into this year's Carrying Stream brochure. Her '"Literature must desire to be life, not an idea of life": Hamish Henderson's Vision "Poetry Becomes People'" graced the volume 'Tis Sixty Years Since: The 1951 Edinburgh People's Festival Ceilidh and the Scottish Folk Revival (Grace Note, 2011).
Tessa's most visible legacy is the Scottish Poetry Library – an idea for which she campaigned vigorously, and which materialised at Tweeddale Court in 1984, moving further down the Royal Mile into a purpose-built home in Chrichton's Close designed by Malcolm Fraser in 1999. In the following year, she was awarded an OBE for services to the Scottish Poetry Library.
The Poetry Library became noted not just for its ever-growing Scottish collection of poetry, but for its distinct internationalism in outlook, very much promoted by Tessa. There are very fond memories of the poetry readings the SPL organised, not just during the Edinburgh Festival, with participants from Denmark, Catalonia, Germany and Hungary and further afield. They all got a warm reception. Tessa was also known for her 'School of Poets', a literary salon she kept before and during and after the SPL years (she retired as its Director in 1999) and which helped many emerging writers to find their poetic voice.
But she could also claim fame as the midwife to a new dish. When the Scottish Poetry Library was launched in St Cecilia's Hall in the Cowgate 'on a January night so foul it would have made a perfect backdrop for the opening act of Macbeth', as Alan Taylor remembered in a recent review in the Scottish Review of Books, a seasonal Haggis was on the bill of fare. But Tessa had lobbied sceptical Macsween's of Morningside that there must be a vegetarian version, even suggesting some ingredients that might be used to make it work. The rest is culinary history…
Born in India in the last days of the Raj, schooled unhappily in St Andrews, Tessa studied at Edinburgh University, where the philosophy John Macmurray influenced her. Her German professor, Eudo C Mason, instilled in her a lifelong love for the poet Rainer Maria Rilke and encouraged her own writing. She had started writing poetry after discovering the poems of Rabindranath Tagore which, as she said, put her in touch with her suppressed 'Indian self'.
Her first poetry collection was published in 1976, and since then another twenty collections have seen the light of print. Tessa also acted as the editor of Lines Review, 'that respected veteran of Scottish literary magazines', as Tom Hubbard called it. In 1999 she married its publisher, Callum Macdonald, who became her second husband.
Following his death, she founded the Callum Macdonald Memorial Award for poetry pamphlets. At the 2015 award ceremony at the National Library of Scotland, knowing that she might not live when the next awards would be given out, she sent farewell remarks, with a plea for the award to be continued and for BBC Scotland to establish a regular poetry programme.
Tessa was a prolific writer, editor, translator and promoter of poetry and a tireless cultural activist. 'Dancing to the poetry of life' could have been her credo. She campaigned for CND and against the arms trade, vigorously supported a Yes vote in last year's referendum, as the best way to achieve 'independent-mindedness within Scotland'. She was a supporter of the Edinburgh Peace and Justice Centre, and she was President of the Scottish Centre of International PEN from 2003 to the end of 2006.
In all our encounters, whether talking about poetry and the arts, politics national and international, or about her grandchildren whom she was devoted to, Tessa was always inspired and inspiring. At the beginning of the year, she was diagnosed with terminal cancer. But she lived to see her final volume of poetry, A Good Cause (Luath Press), published in June. The title is taken from the famous words of Thomas Muir of Huntershill: 'I have devoted myself to the cause of The People. It is a good cause – it shall ultimately prevail – it shall finally triumph.' Here is a passage from the title poem:
Parnassus Hill or Calton
I know which one I'd choose
as Burns would
the one that bears witness to the hero
Thomas Muir
who devoted himself
to a good cause
the cause of the people
In recent years she appeared on stage with folk singer Kirsty Law, offering a programme called 'A Sense of Place', featuring songs and poems responding to each other. Kirsty will be at this year's Carrying Stream Festival (Sunday, 8 Nov), and I'm sure we'll raise a glass in Tessa's memory.
---
Dateline
:
Tuesday 15 September 2015
Information from The Queen's Hall, Edinburgh highlighting some folk gigs in October 2015.
Fri 9 Oct 2015
Moishe's Bagel
provide a live soundtrack, bringing their exhilarating blend of jazz-inflected Eastern European and klezmer music, to accompany Mikhail Kalatozov's early Soviet propaganda film Salt for Svanetia, which dates from 1930.
Sat 10 Oct 2015
We've then got a Ceilidh, celebrating the music of
Freeland Barbour
and the publication of his new book
The Music and The Land
, and with special guests to include Billy Kay, Simon Thoumire, Phil Cunningham... the list goes on.
Fri 16 Oct 2015
We're thrilled to have traditional Irish singer
Cara Dillon
, described by Q magazine as "quite possibly the most beautiful female voice". Cara Dillon is on tour this Autumn; one not to be missed.  Special guest artistes are Kathryn Roberts and Sean Lakeman.
In fact if you have a wee squint at the QH gig list on their box office site you'll also find in October ...
Fri     2   Rachel Sermani
Sun   4   Donovan
Mon 12  Mr MacFall's Chamber
Sat   17  Hayseed Dixie
... and numerous other events - 18 shows in total.  Nicely busy month for the Hall! 
All tickets from
The Queen's Hall box office
, t: 0131-668 2019.
---
---
Dateline Wednesday 5 August 2015
If you're passing through the borders there's a new venue in Galashiels,
MacArts
: "MacArts is a fantastic new community and performance venue in the centre of Galashiels. Originally a church, the building is being transformed into a contemporary multi-purpose facility under the ownership of the Duncan MacKinnon Music and Arts Trust."
The eastern borders is getting fairly cluttered with such endeavours.  There are also the long-standing venues - 
Berwick Maltings
,
Peebles Eastgate Theatre and Arts Centre
,
With the
Borders Railway
re-opening at the beginning of September 2015 Galashiels becomes an easy possibility with about 30 trains daily.  Journey time is about 50 minutes and the last train back to Edinburgh is around 11:30pm -
download the timetable here
.
---
Dateline Wednesday 5 August 2015
PERFORMERS ONLY
Piece of news for performers from our friends at Glasgow-based agency,
Active
... "There's a new day for artists being run in Paisley on the 17th of September.  It is designed to provide performers with information ranging from digital distribution and publishing through to showcase opportunities and media training. 
The day is
free
but is for professional musicians or those who are intending to have a full time career in the music industry (there is another day for amateurs and under 18's on Saturday 19 September). Spaces are limited and will be allocated on a first-come basis and can be
reserved here
(there are only 6 places available for some sessions, 10 for others and 100 for some – so I would advise that if you want to secure a place that you do it as soon as possible). 
There are masterclasses on Friday 18th and a concert featuring Justin Currie, Dougie MacLean, Eddi Reader, Findlay Napier, Emma Pollock and Michael Cassidy. Ricky Ross is in conversation with Bryan Burnett on the 19th and information about these can be found on this
website
.              
---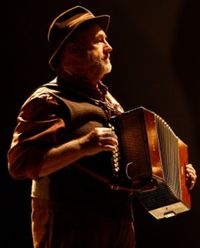 Dateline
:
Friday 11 July 2015
Excellent end of season night at EFC with Bob Fox on Wednesday just past
(pic left)
.  Just browsing around, as you do, and noticed that Bob's touring in South Africa in September 2015 with his "Songman" show from Warhorse in which he had the role of the Songman (see http://www.whatsonincapetown.com/post/an-evening-with-the-war-horse-song-man-bob-fox/); see pic left.  Perhaps we'll see Bob's show in Edinburgh sometime.
---
Dateline
:
Friday 11 July 2015
Who was that mysterious young chap spotted deep in photographic conversation with EFC snapper Allan MacMillan in Sandy Bell's after the Bob Fox gig.  Could it have been renowned graffiti artist, Banksy, just passing through?  That's what Allan reckoned anyway.  It's amazing who pops up in our favourite world renowned pub.  Spotted top judge the former Lord Advocate, Lord Hardie, in there a couple of months back just before he started his new job chairing the Edinburgh Trams enquiry.  The quiet man at the bar opined m'lud would be needing a drink by the time that was finished!
---

Monday 15 June 2015

"If it's going on, it's going in".  We can't remember who said that (probably every newspaper editor who ever lived), but this blog is for relevant news from the world outside EFC.  The blog will be moderated of course, couldn't be otherwise really, so if you send us an item it may not necessarily be published.  Perhaps in the fullness of time we'll devise a set of criteria for your guidance (and ours) but meanwhile common sense will be a good starting criterion.
---